Goodbye 2018, Hello 2019!
Firstly and foremost, many thanks to all Dediserve customers for a brilliant 2018! Your continued support and feedback allowed us to expand our global footprint to several new locations this year, including Melbourne (Australia), Tokyo (Japan) and Warsaw (Poland). The reception for which has been overwhelmingly positive, our next-generation OnApp Cloud platforms are setting industry-leading benchmarks, and we're proud to support you on them.
2019 is set to bring with it yet more locations, more high-speed enterprise-grade platforms and an improved control suite for you to enjoy, take a look at what we have planned!
1. New Location - Dubai, UAE
Home to the Burj Khalifa, the tallest building in the world, and an economy of equal magnitude, Dubai is recognised as the hub of commerce in the United Arab Emirates. A desirable location for many businesses' to host in, it will soon be home to a next-generation Dediserve cloud that will take the local super-car populace to task for the title of "fastest in Dubai".
Next-Generation Cloud
Unrivalled connectivity
Look forward to being able to provision services in Dubai as of February, we cant wait!
Dediserve's high-performance platform lends itself to many use-cases, one of the industries where we have found a lot of traction is the online gaming market. High-speed, low-latency, easily-expandable managed cloud platforms tick all the boxes for start-up or established iGaming platform providers alike. We'll be attending ICE iGaming London on February 5-7th with our iGaming platform partner Pragmatic Solutions, and we'd love to see you there! Drop us a ticket, social media DM or Email if you'd like to arrange time to meet and discuss how we can help your business.
3. New location - Stockholm, Sweden
We're sure you'll have noticed that each year we send out a "new locations" survey, and where possible we act upon your requests! We've consistently seen demand for new Europe locations and we're happy to announce Stockholm, Sweden as our next EU site - due to go Live in March 2019, it will be the same full-featured deployment our customers enjoy in over 20 other locations globally.
4. New Management Panel
2018 saw a refresh of our management panel, though this was mostly cosmetic we hope you'd agree it was a significant improvement.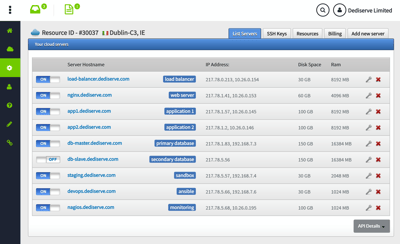 That said, we've heard you loud and clear, using our existing management panel is sometimes cumbersome on mobile devices - to address this we're developing a brand new management suite, perfectly adapted to mobile devices for both general use and ordering of services, we're looking forward to launching this March/April 2019.
5. New Locations - Brazil, India, Philippines
Whilst we're focused on delivering the locations you've requested, we have several popular locations in mind for the second half of 2019, these include Brazil, India and Philippines with specific sites to be confirmed. If there's any locations you think we've missed, please get in touch - your feedback is what drives our business, and every opinion is valued.
Final thoughts
As you can see, we have big plans for 2019, and look forward to another great year as we expand our global footprint for the benefit of our valued customers. Thank you, once more, for supporting us on our global cloud journey.
At DediServe, we are proud to now be known as the world's largest OnApp provider. With a total of 20 strategically placed locations across the globe, 8000+ registered users and 5000+ virtual machines, we're perfectly placed to get you started – join the production-ready cloud today.