DediServe expands into Melbourne, Australia
Due to popular demand and customer feedback, we are delighted to announce the launch of our latest public platform location: Melbourne, Australia.
Located in the heart of the coastal state capital, and situated in Equinix's Melbourne ME1 International Business Exchange, our latest platform not only offers fantastic local peering and access but also boasts world-class international transit.
You asked, we delivered
Back in 2017, we asked which new cloud location you'd be most interested in. With almost 30% of the votes, Melbourne placed top of the pile and, since then, we've been working tirelessly to make it a reality.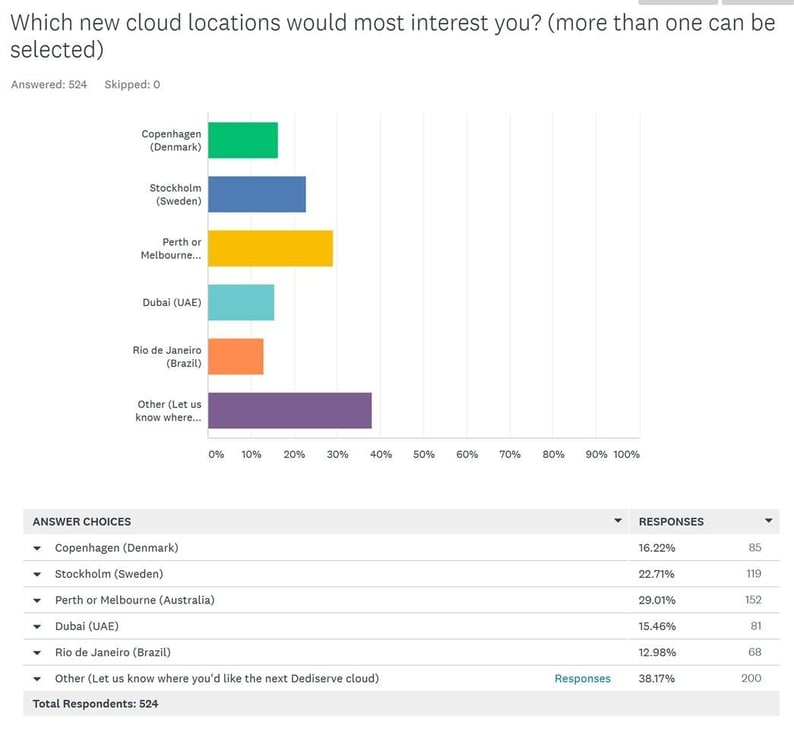 Partnering with ColoAU, a leading telecoms service provider throughout Victoria and New South Wales, we were able to gain unique access to the Equinix Melbourne Data Centre. And, now all the necessary equipment has been configured, we're now offering you the opportunity to take advantage of this latest DediServe offering.
Powerful deployment
The Melbourne public platform is also our first deployment using latest-generation Dell hardware, and after some extensive calculation, we've determined this will deliver:
140% performance increase at VM level
5x read/write speed increases at storage-level
All-new Xeon gold CPUs DDR4 ECC memory, brand-new high-cache RAID controllers (Dell PERC H740)
10Gbit connectivity between Hypervisors and NAS (10x faster than previous deployments)
Melbourne, Australia
With this new deployment, our users can experience a fully-optimised user experience and significantly increased VM performance, in a truly desirable location. And, what's more, we also now accept AUD as payment, making it even easier to take advantage of DediServe's fantastic offers.
We bring the cloud to your doorstep, wherever it may be. To find out more about our global locations or why we're the largest OnApp provider in the world, get in touch and start your OnApp journey today.
Discover a ripper of a deal down under. Enjoy 50% off ALL services at our brand-new Melbourne, AUS, location with promo code MELB2018.
Bonza savings on Fixed Instances
A corker deal on Flexible Resources
Terms and Conditions
Orders must use the promo code to receive the offer, ensure that when you proceed to checkout the discount code MELB2018 is applied to the "Promotional Code" field.
This offer is open to new and existing customers alike, but cannot be used to replace or discount an existing service or account.
This offer does not stack with existing reseller's discounts, but can be used in place of a reseller discount by removing your partner pricing and applying this code.
Any questions – our team are always on-hand to answer any inquiries you may have – get in touch.